Hervé TSHIBANGU ILUNGA, Esq.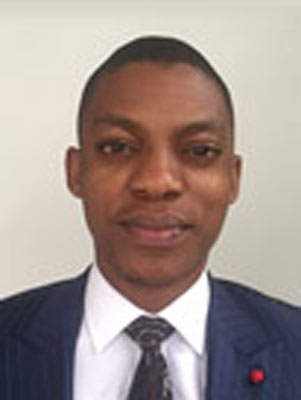 Practice areas: Tax Law; insurance law; Banking law; Financial law; Mining Law; Commodities Law etc…
On top of above matters, Hervé Tshibangu practices litigation and arbitration
With the intent to best attend the requests of English speaking clients, Mr. Hervé TSHIBANGU has accomplished English language studies in Oxford at the Lake School of English. Currently he is attending MA courses at Oxford Brookes University in Oxford, UK. This cursus comes on top of the higher education in Law in Congo (the DR). At the end of his law studies at Oxford Brookes, he plans to get a MA at Oxford University in UK.
His permanent good mood and shape humour make him an interesting person to speak to in the framework of law discussions and consultation of clients when talking law matters in Shakespeare language.
Mr. Hervé TSHIBANGU is an associate with the firm of Tshibangu Ilunga & Partners (www.tshibangulegal.com) a firm complying with anti bribe legislations, notably: the UK Bribery Act (UKBA) of 8 April 2010 as well as the American Foreign Corrupt Practices Act (FCPA) of 1977.
His assessment of situations paired with tactics of arguments and appropriate legal means is a key parameter to have him on board during litigations. He is prompt when analyzing files as well as he is keen respecting the ethical rules.
Education
Degree:
MA, 2014 - 2015 (UPC);
BA, 2012 - 2013 (UPC)

Called to Bar: 2017 Languages: French (fluent), English (fluent), Lingala.
Milestone cases and key projects include:
May 2017: MICOPERI SA vs FTAI LLC, in the matter of vessel arrest in Congo-Brazzaville. Mr. Hervé TSHIBANGU was working the file in the backstage revising the arguments and preparing the files for the acting barristers in Pointe Noire. The client vessel was released after a 7 month fight.
March 2017: NAMEMCO ENERGY Ltd vs VODACOM SA in Kinshasa, Paris and Johannesburg. Mr. Hervé TSHIBANGU has appeared representing the client jointly with Mr. Benoit TSHIBANGU and Moïse OMAR KANDA, after a huge work revising the files in the backstage before the Paris session.
August 2017: Mr. Hervé TSHIBANGU has provided the firm with material investigations in the framework of the legal opinion related to the assessment of the mining licences of AMANY GOLD, the BUREY GOLD Ltd, an Australian company based in Sydney.
His lawyer's license allows him to operate in the Congo DR as well as in Congo Brazzaville under the General Convention on Justice cooperation entered into between the DRC and Congo - Brazzaville on 12 April 1978. He also appears at the "CCJA" Common Court of Justice and Arbitration in Abidjan, as part of Business law Treaty of OHADA applicable by 17 countries amongst others suc as Burkinafasso, Cameroon, Cote d'Ivoire, Gabon, Mali, Tchad, Senegal, Guinea, Equato-Guinea, Bisao-Guinea and so on.
Continued education
May 2016-2017: Attending English Language studies at the Lake School of English in Oxford.
May 2017: Ahas joined Oxford Brookes University with the aim to achieve a MA so as he cal ally the civil law studied in
Internships
April-June 2013: Hervé attended internships at the law firm of TSHIBANGU ILUNGA & Partners SCA.
June-May 2015: Hervé attended an internships work at the law firm of TSHIBANGU ILUNGA & Partners SCA.
Publications
Optimization of the customs revenues as a facteur of development in Congo DR, unpublished 2015 (Master Memory).
Enhancing the customs revenues for a contribution to the development of Congo DR, unpublished 2013 (Graduate Memory).