Moses OMAR KANDA, Esq.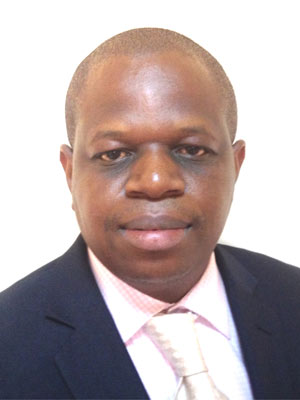 Mr. KANDA is a Partner with the firm of Tshibangu Ilunga & Partners (www.tshibangulegal.com) a firm complying with anti bribe legislations, notably: the UK Bribery Act (UKBA) of 8 April 2010 as well as the American Foreign Corrupt Practices Act (FCPA) of 1977.
After law studies, where he had to specialize in domestic and international Law, Mr. OMAR KANDA assists clients with legal matters involving international investments located in French speaking countries in Africa, notably in DR Congo and Congo-Brazzaville.
His assessment of facts paired with tactics of arguments and appropriate legal means is known throughout the world as a shape thinking that need to be tied with, rather than finding oneself arguing against him. Accordingly, assessment of projects from the legal point, as well as due diligences carried out by him make him one of greatest minds in the legal area in DR Congo.
He combines the promptness with very close care when processing the files put at his disposal, for making sure the interests of clients handled by him are utterly safe. Mr. OMAR KANDA offers to its clients a strict observance of ethical rules.
Me OMAR always keeps a human dimension while dealing with clients in the framework of his profession, so as the interests of clients are at all times treated in strict compliance with the law, procedures and ethics.
Education
Degree:
MA, 2004 - 2005 (UPC)
BA, 2002 - 2003 (UPC)
Called to Bar: 2008 Languages: French (fluent), English (good), Lingala, Swahili.
Practice areas: Law governing assets; insurance law; Banking law; Financial law; transportation law (air, road, maritime); enforcement of arbitral awards, Administrative and Constitutional law; Admiralty and Maritime Law (Arrest and release of vessels, temporary importation etc…)
On top of above matters, Moïse Omar Kanda practices litigation and arbitration
Moses OMAR KANDA has a proven track-record as Barrister and wide range skills as lawyer in the fields of above mentioned matters. Used to complex cases.
Recent cases and key projects include:
May 2016: Agence Française de Développement - A French Government organ - in the matter of employment dispute and management of the employment relationships with local employees.
March 2016: MONUMENT MINING Ltd - a TSE, Sydney and Kuala Lumpur listed company - project: Benoit has advised Monument in connection of the M&A over RSK SARL, a mining company in South Kivu , Congo DR. Due diligence over corporate compliance and over mining licenses and assets was issued to the satisfaction of client. Contact:rbaldock@monumentmining.com
September 2015: DELVAG LUFTFHARTVERSICHERUNGS AG, a German company based in Cohln - in the matter of re-insurance in Congo-Brazzaville. A legal opinion and related report were issued for the purposes of the client tiding up will local insurance companies. Contact: Mr. Henning Grosmann.
March 2015: SAPURAKENCANA PETROLEUM BERHAD - Malaysian Petroleum listed company - in the matter of investment in Congo-Brazzaville, involving employment and work permits for foreign workers and drilling licences, etc… Contact: Vic Kie:vickie@kaaplaw.com
2014: ICICI LOMBARD GIC Ltd - a Bombay based baking and insurance company) - in a reinsurance joint venture in Congo Brazzaville with the aim to cover insurance risks. Legal advices and due diligence on the targeted companies were issued upfront by Benoit Tshibangu Ilunga, to allow the client tied up with local companies being aware of the status of the insurance market. Scale of the project: $270 million.
2013: LIOUESSO HYDROPOWER construction China Gezhouba Group Co., Ltd in Congo-Brazzaville, under financing of The Export-Import Bank of China. Benoit Tshibangu with his colleague Moïse Omar Kanda did provide the upfront advice in respect of the empowered authorities likely to engage the Government, the structure of the sureties; the waiver of the sovereign means for future enforcement. Scale of the project: $120 million.
2013: MAURITIUS COMMERCIAL BANK vs MODE YELLOW financing project in Congo-Brazzaville, in the matter of telecommunications. draft sureties and guarantee for the enforcement of the contract were provided to client. Scale of the project: $8,75.
His lawyer's license allows him to operate in the Congo DR as well as in Congo Brazzaville under the General Convention on Justice cooperation entered into between the DRC and Congo - Brazzaville on 12 April 1978.
He also appears at the "CCJA" Common Court of Justice and Arbitration in Abidjan, as part of Business law Treaty of OHADA applicable by 17 countries amongst others suc as Burkinafasso, Cameroon, Cote d'Ivoire, Gabon, Mali, Tchad, Senegal, Guinea, Equato-Guinea, Bisao-Guinea and so on .
Continued education
May 2011: Attending in the validation workshop FARDC training modules on sexual violence in Kinshasa, MONUSCO headquarters.
May 2011: Attending "the round table on the assessment of the implementation of the 2006 law on sexual violence in Goma".
April 2011 (20 - 21): International Symposium of Kinshasa on the OHADA Law, the Notary and securing investment in Africa (Kinshasa).
April 2009 (6 - 8): Workshop on launching the ACORD project on the fight against SGBV in the African Great Lakes Region, Nairobi on the development of the Methodological Tool, Judicial Audit in countries selected for the said project (DRC BURUNDI, KENYA, TANZANIA and UGANDA).
September 2009: Participating in the Regional Evaluation Workshop of legal audit in Kinshasa.
August 2004 (2 - 6) : Representative of the UPC 13th Moot Court of Human Rights of Dar es Salem in Tanzania.
Internships
April-June 2003: OMAR attended internships at the office of the General Attorney in Kinshasa/Gombe.
June-August 2005: OMAR attended an internships work as deputy Magistrate at the office of the General Prosecutor in Kinshasa/Gombe.
Professional Affiliations
Mr. Moses OMAR KANDA actively participates in the foundation of the International Conference of tradition Bars Legal Commune ( "IPC").
Eventually, Mr. OMAR is actively involved in investigations initiated by the cell of the World Bank "Doing Business", that awarded him a diploma of merit for 2015.
Publications
OMAR KANDA has published:
Consequences of sharing the exercise of power on the functioning of the transitional institutions in the Democratic Republic of Congo, unpublished 2005 (Master Memory).
Analysis of the procedure for ratifying international treaties and conventions for the Democratic Republic of Congo: the case of the Rome Statute, unpublished 2003 (Graduate Memory).