Yves YAO Konan d'Arrah, Esq.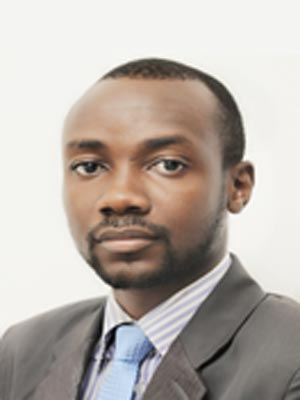 Mr. KONAN D'ARRAH is an Associate with the firm of Tshibangu Ilunga & Partners (www.tshibangulegal.com) a firm complying with anti bribe legislations, notably: the UK Bribery Act (UKBA) du 8 avril 2010 as well as the American Foreign Corrupt Practices Act (FCPA)de 1977.
After studying the private law with a specialization in Business Law, Yves Raphael KONAN began his career in various Chambers with international dimension where he acquired several skills in various fields of Law, enabling him today to advise, assist and represent clients in most French-speaking West African countries in general and particularly in Ivory Coast.
He covers the western French-speaking countries (OHADA) on behalf of the firm;
He notably assists with forming companies, offers the legal secretariat; to manage and follow contentious and precontentious files in relation to the Lawyer-Usher-Notary-Police chief-appraisers; drafts agreement procedural documents; advises and issues legal opinions to corporates; follows up civil and commercial claims; analyzes, audits and interpret the regulation and/or the clauses of contracts; representation before the national and Community administrative and legal authorities.
Celerity and close respect of procedures are part of his professional conduct.

Degree
Education:
2010 -2011: MA 2 in Business Law, University Gaston Berger of Saint-Louis – Senegal
2011 -2012: MBA (Mater degree 2), University Cheikh Anta Diop - Senegal)
Position: Associate
Based in: Abidjan, Ivory Cost
Languages: French; Spanish (average); English (average); Baoulé; Dioula.
Fields of practice: OHADA Law (General Commercial law, Corporate law, Debts Collection Procedures, Securities and Sureties, Insurance law (CIMA), Obligations and Tort Law, );
Further, Mr. D'ARRAH practices litigation, arbitration and conciliation.
Key projects handled
2016: has assisted an investor in Ivory Coast setting up a Limited liability company in the sector of Building industries and Publics named SOCIAD. He continues to provide Legal advices within the framework of his activities: Contact: KOKO Sara: 07.00.79.55;
2015: With Mr. Benoit TSHIBANGU, he has set up a Limited liability company in Senegal in the sector of oil trade, Nimoil Marketing Senegal "NMS" on behalf of an investor; Contact: Mr B. TSHIBANGU;
2015: Same for an investor Ivory Coast; a Limited liability company Start-up in the the sector of weather studies and electronic trade named ZEGNIN.COM; he continues to provide Legal advices within the framework of his activities: Contact: ASSEKE: 07.46.02.27;
2014: Same for the company « New Generation for Insurance » (« GNA »), in the sector of insurance. He continues to provide Legal advices and assistance within the framework of his activities: Contact: AKA Koffi Oscar: 07.44.54.32;
Training
October 2016: Participation in the formation on the techniques of friendly recovery of debts in Abidjan.
2008: Participation in international competition "grass OHADA Geniuses" in Abidjan
Internships & collaborations
February 2015-August 2016: at the Law firm KNKC/Abidjan.
April 2013-August 2014: Trainee & Collaborator Lawyer of the Law firm CLK/Abidjan.
November 2011-February 2012: Trainee of the Chamber of Mr. Mbaye DIENG and Associates/Dakar.
October 2010-November 2010: Trainee of Mr. SYLLA SOKONA, Notary/Abidjan.
Professional Association
Member of the Circle of the Ohada Young Business Lawyers (CJJA).
Publications
Yves Raphael KONAN had to publish:
Diagnosis of the mining sector and strategies of the State Man from the Ivory Coast ", new 2012 (Memory end of cycle, MBA-CAE);
The intervention of the notary in business contracts: the real sale ", new 2011 (Report of internship OF).