Enid-Junior MPETI LOMBE
Lawyer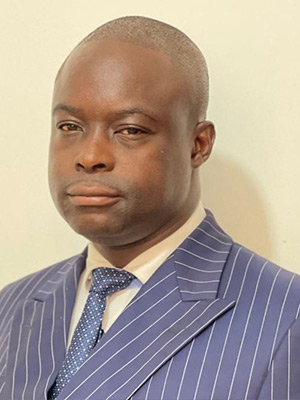 Position: Senior associate.
Education: Bachelor of Laws (DRC).
Capacity: Attorney at Law (Barrister); Mining/Quarry Attorney
Fields: Civil law, criminal law, company law.
Languages: French; Lingala;
Experience: 16 years in 2023.
Enid-Junior MPETI LOMBE is a lawyer registered with the Bar Association of Kinshasa-Matete since August 14, 2009 (whose oath was renewed with distinction on November 28, 2014) and listed with the National Bar Association under number 6354.
Apart from the judicial law that he masters perfectly with his appearance before the courts and tribunals, he provides valuable services in the field of corporate law especially through the approach of the legal development of companies that he constitutes at the request of his clients ( local and foreign).
Senior Associate at Tshibangu Ilunga & associés SCA for six years after having been an associate at Lumbala Kabeya sanspeur law firm for seven years.
Before joining the Bar, he was administrative and legal assistant to the CEO of Congocom (Dealer of communication products) and in charge of legal and tax affairs within the same company (2008-2009).
His professional impetus was totally born by the credible professional internship carried out in the legal department of the National Transport Office (former Onatra, nowadays the National Company of Ports and Transports).
He took part in various continuing education courses mainly in business law.
Has operated in the field of business law (OHADA) in Pointe-Noire, Brazzaville and Kinshasa.