Ignace MUAMBA MUAMBA, Esq.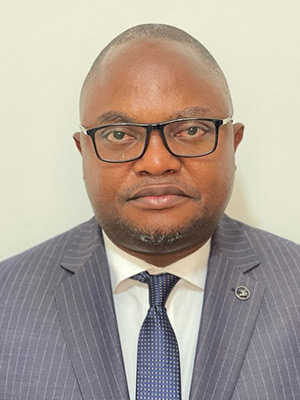 Ignace MUAMBA Muamba is an attorney at law and a mining and quarrying attorney.
Position within the TI&A Law Firm: Senior Associate.
Education: Master in Law, U.KA and Post graduate Degree (D.E.S/D.E.A), UNIKIN (DRC).
Languages: French, Tshiluba, Lingala, Swahili.
Experience: 12 years.
Areas of experience: Tax and Customs Law (tax and customs litigation), Mining and Hydrocarbons Law, Agricultural and Forestry Law, Environmental Law, Investment Law, Insurance Law, Transport Law, Public Finance and Fiscal Decentralization Law, General Commercial and Corporate Law, Securities Law, Debt Collection Law, Enforcement and Settlement of Liabilities, Judicial Law and Arbitration.
Ignace MUAMBA is registered under the number 7854e of the National Bar Association of the Democratic Republic of Congo since December 2010. He is a member of the Kasai-Central and Kinshasa-Matete Bars.
Mr. MUAMBA combines scientific knowledge and legal strategies for effective and appropriate solutions to legal problems posed by his clients. His acute analysis of the theory and the rule of law coupled with the mastery of judicial practice are recognized as a contribution of a wise mind that one needs to have with him than against him and constitutes for him, one of the important assets in the world of the Congolese business lawyers. He is authorized to practice law in the DRC, in 17 OHADA countries as well as in the States that have signed reciprocity agreements with the Congolese State in accordance with the law of the DRC.
Ignace MUAMBA intervenes - alternatively as an expert or as a lawyer - wherever DRC law is invoked, notably in France, England, Belgium, Australia and South Africa.
Ignace MUAMBA has assisted several foreign investors in the creation of companies, registration of branches, organization of due diligence for large-scale investments, tax and customs litigation as well as debt collection.