Paul NAYABA LINUANA, Esq.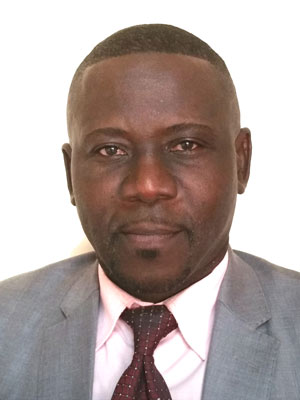 Mr. Paul NAYABA LINUANA is a member of the Bar of Kinshasa / Matete where he is registered since 2001, after being Legal counsel since 26 September 1996.
Mr. Paul NAYABA is a Senior associate with the firm of Tshibangu Ilunga & Partners (www.tshibangulegal.com) a firm complying with anti bribery legislations, notably: the UK Bribery Act (UKBA) of 8 April 2010 as well as the American Foreign Corrupt Practices Act (FCPA) of 1977.
He is among the far stable members of the firm of Tshibangu Ilunga & Partners, where his service is highly appreciated.
His expertise in issues related to Land law and real estates is exemplary. Competition law, Transportation law (maritime, river and lake) are in the range of his expertise.
Indeed, after brilliant law studies at the University in Economics or business law, Mr. Paul Nayaba assists and represents clients in cases in connexion with business law, including the incorporation of companies, investments procedures with the ANAPI, obtaining national identification numbers at the Ministry of economic Affairs etc ...
But feeling natural compassion for the most vulnerable, he is also active in protecting children's rights he defends before the juvenile courts in Kinshasa.
Master of Arts (law degree implying 5 years higher education at University, in business law).
In DRC education system, it is a 2nd cycle degree that comes after the first higher education cycle : Bachelor of arts.
Education
Degree:
MA, 1999 (Unikin)
BA 1996 (Unikin)

Called to Bar: 2001
Legal consultant: 1996
Position: Senior Associate
Languages: French (fluent), Anglais, (good), Lingala, Kikongo.
Practice areas: Telecommunications Law, New technologies, Land and Real estate law, Criminal Law, Contracts Law, Contractual liability, Competition Law.…
Moreover, he practices litigation and Arbitration.
Certifications
Patent: by the National Institute of Professional Preparation (INPP) in Management of Small and Medium Enterprise and projects.
Experience
Mr. Paul Nayaba assists many clients in the DRC, including telecommunications companies, NGOs etc ...
Court cases related to land law issues are in the scope of his expertise.
2016: He was actively involved in investigations related to the due diligence over the acquisition project of RSK SARL interest by a Canadian company MONUMENT MINING Ltd. Unfortunately, the project failled.
2015: He actively took part in the analysis of legal issues affecting the corporate documents of Kamoa (IVANOEH DRC) during the process of acquisition of interest by Zijin.
2015: He analyzed the financial obligations (bonds) of IVANOEH MINES Ltd. as part of the Kamoa mine.
Professionnel carrer
After being Legal Consultant (26/09/1996 to 09 March 2001), is Mr. Nayaba was registered with the Bar of Kinshasa / Matete in 2001.
He is a former member of the Council of the Bar at the Court of Appeal of Kinshasa / Matete where he served as deputy treasurer of the Council since February 2011.
Internationally
He is currently a Candidate to the International Criminal Court.